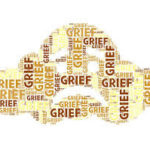 If you have lost a loved one: family, friend or pet, you have experienced the pain that comes with grief.
It comes when you least expect it, and it comes in waves and can feel like a freight train bearing down upon you.
"Grief is like the ocean; it comes on waves ebbing and flowing. Sometimes the water is calm, and sometimes it is overwhelming. All we can do is learn to swim."
–Vicki Harrison
When I lost my mother in 1999, I felt a loss so acute it caught me off guard.  My mother had been ill for sometime, however, I did not realize she was so sick.
When the doctors suggested hospice my sisters and I approved it, well…we signed the papers anyway.
One of the hospice nurses explained Mom had about two weeks to live, and I lost control so completely, wailing with uncontrollable sobs.  Ironically, she was completely correct.  I was not prepared to lose my mother.
I cannot remember a time when I experienced a loss so close to my heart and grief so profound and agonizing.
I realized I needed someone to tell me the hurt would lessen in time; the true heartache would eventually stop.
My thoughts were; please tell me I will feel better and this empty feeling will go away.
I want the memories consuming my consciousness to transition from gloom to joy.
If you have experienced a loss of a loved one, consider speaking someone who has gone through a similar experience,  to express the words I am now saying to you because, like you, I have experienced deep loss.
In time you will feel better.  For now grieve your loss.
Think about joining a grief support group or seek personal counseling. There is hospice, your church or  social organizations in your community.
If you do not go through grief, it will come back to you and its bite will be hard and relentless, this I know for a fact.  I will share more on that another time.
Please comment, add your experiences and help others.
Honor yourself!