Yes, there is sunshine on the other side of pain-sadness.  When you are in the middle of it, the pain feels hopeless and non-ending.
I was traveling with my husband and daughter through Wyoming a few short years ago.  My daughter and I were driving in two hour stints.  I was relaxed on the back seat, watching and commenting on a passing three-wheeler with a passenger in the jump seat and the dark clouds rolling in.
A few minutes later I was texting friends about the black clouds in the east and said they looked like tornado clouds.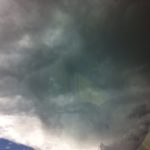 The clouds were dark grey to black with dipping ragged edges at the bottom.  Scary clouds.  Having lived in Texas for many years, I know tornado clouds. At that moment a weather alert came across my phone and Ronda's phone too.  .  Shrill sound.
It was a warning of a tornado in the area.  Less than a minute later it began to pour, deluge of rain and hail the size of baseballs.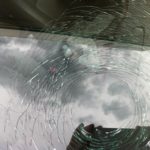 We were out on the open highway, oh, do we stop, and do we continue on. I remember my husband saying when in a storm to keep moving unless you are sheltered.  The hail balls were so large and hard and hit our windshield with so much force it shattered on the passenger side.
When we finally got to an overpass there was no space and we had to continue on and not stop.  Visibility was poor.  My daughter's composure was outstanding.  What a great example she was for me and her father.  She handled the car and the situation expertly. We did not see the couple in the three-wheeler under the overpass and we prayed they found safety.
Finally the hail subsided and left rain in its wake.  The rain trickled down to nothing and the sun shone on a day that was clear, warm and green.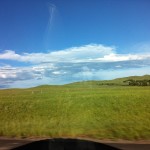 What was left of that storm was shattered windshield, lumps and bumps on our car and tattered nerves.  The universe had adjusted itself.  When we were in that storm we could not see an end, however we continued to move forward and through it.  Yes it left its scars and it left great lessons that I am imparting to you.
You may be in the middle of unbearable pain of grief, walk slowly through it and find sunshine and joy on the other side.  It will be different and it will be kind.
What storm have you walked through and made it to the other side.  Please share with us.
Honor yourself!